If you're a plastic surgeon, then you know that online marketing is essential to your success. No matter how talented you are in the OR, if people can't find you online, your appointments and new clients will be lacking.
That's where search engine optimization comes in. SEO is the process of optimizing your website and content so that you rank higher in search engine results pages (SERPs). When people search for plastic surgery-related terms, they'll be more likely to see your website near the top of the results.
And that's what we're going to help you do. In this blog post, we'll give you some basic tips on plastic surgery SEO.
But remember: these tips are just a starting point. If you want guaranteed results, it's best to hire an agency like ours to do the job for you. Do you really think your competitors are doing their own cosmetic surgeon SEO in between appointments?
What are Plastic Surgery SEO Services?
Plastic surgery search engine optimization is a suite of strategies and tactics aimed at improving the visibility of plastic surgery practices online.
By using SEO techniques, such as optimizing website content for relevant keywords and building high-quality backlinks from other authoritative sites, plastic surgeons can improve their rankings in search results and attract more patients to their practice.
Equipped with these skills, plastic surgeons can not only maximize the effectiveness of their online presence but also see greater returns on their marketing investments.
Perhaps most importantly, plastic surgery SEO helps plastic surgeons reach and connect with potential patients who may not have otherwise known about their practice or been able to find them through traditional marketing channels.
With all of this in mind, it is clear that plastic surgery SEO is an essential tool for any modern surgeon looking to grow their practice and keep pace with the competition in today's digital landscape.
The Search Engine Optimization for Plastic Surgeons Guide
There are a number of different tactics you can use to get started with SEO for plastic surgeons.
First and foremost, it's important to identify the keywords that are most relevant to your practice – these should be both high-traffic and low-competition, so that they will help drive plenty of traffic without being overly competitive.
You'll also want to make sure that you're using those keywords throughout your website pages in the right places – this might include the title tags and meta descriptions of your site, as well as the body of your content.
Another important consideration is backlinks – these are links from other websites that lead back to yours. To increase your SEO effectively in this area, try reaching out to prominent influencers in your field or partner with other plastic surgery businesses who might be able to provide you with high-quality backlinks.
With the right SEO strategy in place, you can expect better visibility and more traffic for your plastic surgery practice in no time!
Local SEO Strategies for Plastic Surgeons
Local SEO is the practice of increasing your online visibility to prospective patients in your target area. Your local SEO listings, including your Google Business Profile, will be key here. Making sure your website discusses the area in which you operate is also an important part of local SEO for cosmetic procedures.
While prospective patients will undoubtedly travel great distances for a good cosmetic surgeon, your main focus should be a local SEO campaign. This will let you become the authority of plastic surgery procedures in your target area, which will attract new patients, and online attention.
A Good Plastic Surgery Website and Google Business Profile
A good plastic surgery website should be professionally designed, with a layout that is easy to navigate and optimized for SEO. This will make it more appealing to potential clients, helping your plastic surgery center to stand out from the competition.
It is also important to have good visibility on platforms like Google My Business and Google Maps, as this allows users to find you both online and in their local search results. So if you want your plastic surgery practice to thrive in today's digital landscape.
A Google listing goes a long way in maintaining a great local SEO strategy for your plastic surgery business. This will help you to attract new patients by ensuring that your website appears near the top of search engine results when users are looking for local providers.
Keywords for a Plastic Surgery SEO Campaign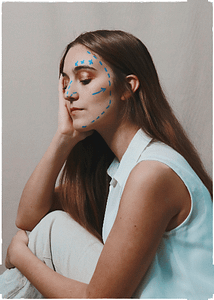 When it comes to a plastic surgery SEO campaign, the key to success lies in using the right keywords. Keyword research is a big, early step any SEO company will take when getting you started.
There are many different types of plastic surgery SEO keywords that can be effective for plastic surgeons, including specific terms related to a specific cosmetic procedure, like a nose job, descriptive words that highlight the benefits of plastic surgery, and general keywords that appeal to a broader audience.
To find these keywords, you can use a range of online tools and resources such as keyword search volumes, competition metrics, suggested searches on search engines, niche forums and community sites, and more. There are also many paid keyword tools, like SEMRush and Ahrefs, if you're serious about keyword research.
Once you've identified the most promising cosmetic surgery keywords for your practice through your keyword research, it is important to fully optimize them across all your online platforms – including your website content, social media posts, ads and blog posts.
This will help ensure that you reach the right audience and drive potential patients to your practice through effective plastic surgery SEO. So if you're looking to boost your online presence and grow your plastic surgery business through effective digital marketing strategies, make sure to start with the right cosmetic surgery keywords!
A Complete Plastic Surgery Practice Content Plan
When it comes to plastic surgery content for websites and SEO, there are a few key things to consider.
First, you need to focus on providing high-quality, authoritative content that is both engaging and informative. This should include information on surgical options, as well as details on different cosmetic procedures, the benefits of plastic surgery, and the results you can expect from various treatments.
Having a page detailing every major and minor type of procedure you offer, like breast augmentation, a tummy tuck, and a nose job, is a must.
Additionally, it's important to incorporate the search terms you learned about from your keyword research into your content in a natural and strategic way. This means using keywords in titles, headers, tags, as well as in body copy throughout the article.
Finally, when writing plastic surgery SEO content for your website or blog, it's crucial to stay up-to-date with recent trends and developments in the industry so that your audience always has access to the most accurate information.
With these tips in mind, you'll be able to create powerful and relevant content that will help drive traffic to your site and improve your SEO rankings on Google and other search engines.
YOUR PRACTICE

ISN'T RANKING ON GOOGLE!
If clients can't find you when they're searching for your specific service, you might as well not exist to them!
These aren't low quality leads either, these are people dealing with specific issues that YOUR practice specializes in solving.
They're looking, begging, for someone to help them.
Don't you want them to see your services first?
On-Page SEO for a Plastic Surgeon Website
On-page optimization is a fundamental aspect of SEO that involves making small changes to the content and code of your website in order to maximize its ranking potential.
This can include things like using specific keywords and phrases in your title tags, meta descriptions, URL structures, and throughout the content itself. It can also include optimizing image alt text and adding relevant internal links to other pages on your site.
By doing these simple things, you can improve your site's visibility in search engine results and help plastic surgery patients find you more easily.
Whether you are a surgeon looking for a plastic surgery SEO strategy, or any other type of business, on-page optimization is an essential part of any successful SEO campaign.
Off-Page SEO for Cosmetic Surgeons
Off-page SEO is the process of optimizing your website and online content through external methods, such as link building, social media engagement, and article syndication.
This is an important part of any cosmetic surgeon SEO campaign, as it helps improve your site's authority and visibility in search engine results pages. There are a number of ways to build links and engage with social media, and the most effective approach will vary depending on your specific business and industry.
For plastic surgeons, a good off-page SEO strategy might involve creating informative blog posts that can be shared on social media, reaching out to relevant websites and blogs for guest posting opportunities, and participating in online forums and discussions related to your niche.
By engaging with your audience in this way, you can build links and create awareness for your plastic surgery practice while also providing valuable information to potential patients.
Citations and Local Listings
When looking for a plastic surgeon, one of the most important things qualified leads consider is finding a well-reviewed professional who has experience performing the procedures they want. This can be difficult, especially if you are searching online, as plastic surgeon directories and online listings can be hard to navigate.
However, these resources play an essential role in digital marketing and SEO, helping plastic surgeons to reach a wider audience and connect with potential clients on search engines.
By including your information on plastic surgery practices' directories and listings, you not only raise your profile online and your reputation with search engines, including Google Search, but also become more easily discoverable by those searching for surgery services.
Backlinks
Backlinks are essential for any plastic surgeon's website in order to improve SEO. By building strong backlinks from reputable websites with similar or complementary topics, plastic surgeons can help boost traffic to their site and increase their online presence.
Additionally, backlinks serve as endorsements for a plastic surgeon's practice, indicating that other professionals in the medical community believe in their skills and expertise.
For these reasons, plastic surgeons should take the time to research and cultivate quality backlinks for their website, thus enhancing their visibility on each search engine, and their credibility in the field of cosmetic surgery.
Internal links, while slightly different, also play a part here. These are links that you have between your own pages. We have a general medical SEO page that we'll place a link to this plastic surgery SEO page on. It interconnects your content and helps Google, and your target audience, navigate your site.
Internal and external links are both important. So don't forget either!
Technical SEO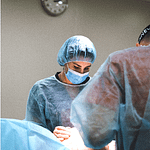 Making sure your website looks and performs well on a mobile device, your URL structure, your site speed and page speed, and your structured data markup are all examples of technical SEO. It's hard to build on a shaky foundation, and the technical backbone of your website is your foundation to all of your plastic surgery SEO campaigns.
This can be one of the trickiest areas in plastic surgery SEO to do yourself, unless you have a background in search engine optimization and/or web development.
It's best to let an plastic surgeon SEO company handle these tasks. But if you're on WordPress, there are some great plugins that can help with page speed and other technical factors. WPRocket is our personal favorite.
Getting Started with Your Practice's SEO Campaign
We know, it's a lot to process, and it can be hard to even know where to start when it comes to boosting your search results and rankings. Building web pages, adding missing meta descriptions, designing those perfect location landing pages, and finding those perfect long tail keywords can be overwhelming.
Just take it a step at a time, pick a section above (start with keywords and local SEO) and see what you can do. If you want advice or a free consultation, reach out to a plastic surgery SEO agency. We're always here to help get you started with increasing your organic traffic.
We offer free advice and SEO audits (check out the section above for a free, basic report. If you need a more in-depth audit, let us know!) and we always love discussing SEO with small businesses, even if they don't become clients of ours.

Why Choose Us AsYour Albuquerque Cosmetic Surgery Marketing Agency?
When you're looking at SEO for plastic surgeons, it's important to remember that it's an investment, not just an expense. Sure, you could try to do the work yourself, but unless you're an SEO expert, you're not going to see the same results as if you hired a professional. Or better yet, a team of professionals!
That's where agencies come in. By hiring a local Albuquerque cosmetic surgery marketing agency, you can be sure that your website will be optimized for maximum results. Not only will this help you rank higher in SERPs, but it will also help attract more patients through your website.
And that's what we're here for. At our agency, we specialize in SEO for plastic surgeons. We know the best techniques and strategies to help your website rank higher and get more traffic. So if you're looking for guaranteed results, look no further than our team of experts.
You Can't Afford to Miss Out on These Cosmetic Surgeon SEO Services
Noved Solutions is an Albuquerque SEO agency that specializes in plastic surgery SEO, and knows how to get your practice ranked higher on Google.
We offer affordable local SEO services for small businesses all over the country, but we give extra attention to our local companies here in Albuquerque. Let us help you get your medical practice where it needs to be.
Higher rankings on Google can mean more leads and more patients for your business. Imagine what you could do with that kind of boost – imagine the possibilities!
Contact us today and let us show you what we can do for your business. We offer a free consultation so you can see how we can help you reach your goals.