Need More Immigration Clients?
You can use digital marketing to develop leads, close more deals, improve website conversions, and enhance the relationship with new and existing immigration law firm clients.
In this guide, you'll learn how you can use digital marketing to build your business as an immigration attorney, attract more clients, and convert them into customers.
Why Choose Digital Marketing?
Digital marketing allows your law firm to connect with prospective and existing clients online through different platforms. It gives you an opportunity to target your audience, engage them, and grow your business.
The best part about digital marketing is that it is cost-effective. Unlike print advertising, which costs thousands of dollars per month, digital marketing has very low costs and is easy to scale up.
Digital marketing for attorneys, whether you focus on immigration or personal injury, is an effective way to reach new clients and build your personal brand. You can use these tools to promote your expertise, become a thought leader in your field, increase sales and revenue, and secure referrals from other professionals.
How Digital Marketing Benefits Immigration Law Firms
Why would you want to market your practice online? There are many reasons why it could help you:
Attract new clients by reaching people who are performing a Google search for immigration lawyers online (whether they're planning on moving somewhere or have already moved). You'll be able to show that you're experienced enough to handle complex cases and get results quickly. This will help put potential clients at ease so they know they're hiring someone who knows what they're doing.

Show existing clients how much experience you have so that they feel confident about hiring you again in the future if needed. They'll feel like their case was handled perfectly every step of the way thanks to professional communication provided through email newsletters containing relevant information on specific topics related directly back towards client matters handled within past months by the immigration lawyers in charge of their case.
How does SEO for Immigration Attorneys work?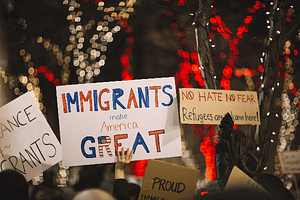 When someone types a certain keyword into Google, they can find a page that has been optimized to appear on top of the search engine rankings. For example, if a client is looking for immigration attorneys, and they type "immigration attorney," they will be able to find a page with information about that lawyer.
SEO is very important to anyone who wants to grow their business, immigration lawyers included. The first step to getting a website ranked higher in the search engines is to know what keywords people are using to search for your products or services. Once you know what the keywords are, you can then write content that will appeal to people who are searching for those specific terms.
A solid SEO strategy for an immigration law firm website is one that includes an ongoing focus on SEO best practices, how search engine algorithms change, and a constant drive to increase the number of quality links pointing to your website.
The SEO team will then be responsible for maintaining the law firm's website design and content and improving their search engine rankings. It takes an experienced team to provide the best results for your immigration law firm website.
SEO Strategy for Immigration Attorneys
Search engine optimization is a great internet marketing strategy that gets the word out about your services, and helps you get more leads. Immigration law firm SEO is also an effective way to convert those leads into potential clients!
You can use SEO for immigration lawyers to build your brand, authority, and your reputation as an expert in the field. As a result, this will help you attract clients who are looking for someone with specific skills at the top of their game.
The best part about focusing on SEO for your immigration law firm is that there's no need for a large budget or any special tools—just some basic knowledge of how Google and other search engines work will be enough!
Local SEO for an Immigration Attorney
Local SEO for law firms is important because it can give you a leg up on your competition. Organic traffic is great, but organic local traffic is even better! The average person is more likely to hire an immigration lawyer in their area who offers services at reasonable prices, has a track record of successful cases, and has all of that information, including reviews, right there on their local listings.
Local search rankings are determined by the following factors:
How often users search for local keywords related to your practice area and location, or if they're searching for a nearby immigration lawyer or immigration law services in general

The relevancy of your law firm's content when compared with other local competitors' websites (e.g., if you have more than one location, does each website have different content?)
Your immigration lawyer website's ability to rank for highly competitive terms that people use when searching for local immigration law firms
YOUR LAW FIRM

ISN'T RANKING ON GOOGLE!
If clients can't find you when they're searching for your specific service, you might as well not exist to them!
These aren't low quality leads either, these are people dealing with specific issues that YOUR law firm specializes in solving.
They're looking, begging, for someone to help them.
Don't you want them to see your firm first?
Why SEO for Immigration Lawyers is So Important
It is important to consider SEO if a lawyer is pursuing immigration cases. Optimization helps increase visitors to your site, and in turn, conversions. Over time, it's easy to see if an organic search campaign's return on investment (ROI) is favorable. Immigration lawyer SEO is very competitive, and Google has an advantage in deciding which firms come out on top of their search engine results.
Is It Worth Paying an Immigration Law SEO Company to Help?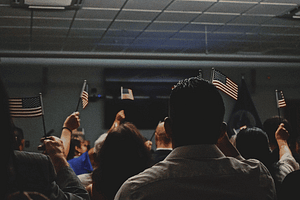 Through Google and other search engines, you can get more traffic to your website, leads and cases. It's worth investing in an SEO campaign because it gives you a competitive advantage over other immigration attorneys in your area. You can also charge higher fees because of the increased number of clients who find you through organic search results.
Yes, but only if you hire an experienced immigration law SEO company such as Noved Solutions.
Why? Because we know how to use local search keywords that are relevant to those searching for an attorney experienced in handling visa, green card, and other common industry services near them.
We help with link building by outreaching blogs and businesses in the legal niche, and in the area of your target audience.
Take a look at one of our former immigration lawyer's organic traffic: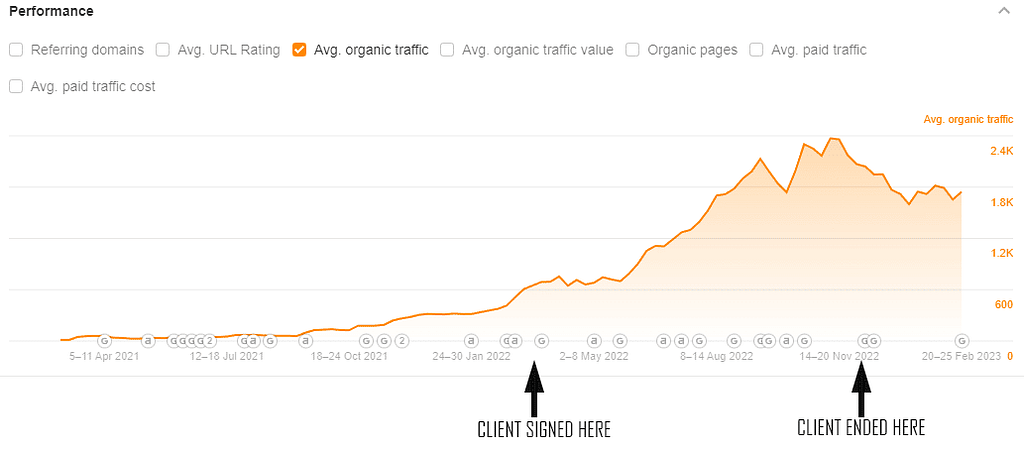 While the client only stayed on for about 9 months, they saw a 4x increase in their organic traffic.
And as any SEO agency knows, Ahrefs, as amazing as it is, can't give you accurate traffic numbers. They're based on estimates of search volume and position ranked.
Actual organic traffic, according to Google Analytics, increased over 80%.
But we all know that traffic by itself means nothing, right?
For the same client, for March 2022 until November 2022 (while working with us!), the client saw a 66% increase in leads, a nearly 400% in ebook downloads (informational guides for potential clients), and a 53x increase in newsletter signups (their main conversion channel after organic search)!
The overall conversion rate increased by 24% as well! More traffic, AND more conversions per visitor!
One funny note is, their PPC campaigns, which we did not manage, performed terribly. A 80% loss in sessions, and a 65% loss in conversions; with no budget changes.
I know what you're thinking; "if you did so great, why did they leave?!" Great point!
The client ended the contract because they were too small at the time to take on as many cases as we were sending them. They had to start potential clients away because they didn't have enough lawyers in their office.
Not a terrible problem to have, eh?
Websites That Rank for Immigration Law Firms
The website of your law firm is an essential part of your business. Without a website, you're not going to have a very strong online presence, even if the rest of your marketing is top notch.
Speed Matters
With that in mind, it's important to make sure that your law firm website is a high performing website. One way to do this is to make sure that it is fast.
According to the Nielsen study that was done on mobile website performance, 40% of consumers abandon a website that takes longer than three seconds to load. A fast website also helps SEO and marketing in general.
If you want to get your law firm website optimized, you can use SEO tools to run audits fairly simply (or just hire us to do it for you!). These tools will help you to optimize your website's SEO, making sure it is higher in the search engine results pages.
Focus on UX
Does your site structure make sense? Can visitors easily navigate your web pages to find what they need in a timely manner? If not, a UX audit might need to be performed to ensure everything important on the site is nice and easy for even the least technologically advanced visitors to find.
Include helpful images & graphics in content
The best way to improve a website's engagement is to add helpful visuals and videos. Use tables and graphic materials to describe immigration process scenarios, it helps explain written content in an easier way sometimes, and helps the more visual learners process the information.
Google loves visual content, and so do other people. This helps you keep people on your site longer, but also helps you attract powerful backlinks from other sites!
Optimize Site Structure for Maximum SEO Results
Because of the vast amounts of content available on immigration law firm websites, you must be careful with the way you organize the content. Poor structure can bleed your website authority if a number of pages contain incorrect or missing links, reducing the relevance of your site. It is also used by Google crawlers to properly redirect your valuable linking authority towards the correct webpage to help you rank more difficult keywords.
Ensure your pages are linking together where appropriate. If you're writing a post on "Applying for a Green Card", you should go through and link any relevant mentions of applying for green cards on your site to this new page once it's published.
Keyword research for immigration attorneys
As with any good SEO strategy, it's important to consider the local keywords that are most relevant to your ideal immigration law practice client. In this case, it means thinking about what words they would type into Google when looking to hire a lawyer with your specialization.
To get started, think about what problem your potential clients may be facing and how you can help them overcome it. Does anyone ever search for "immigration problem"? Probably, but they're not likely looking for a lawyer at the time!
Instead, look at common phrases like "how do I become a citizen?" or "how do I get my green card?" These are both great starting points for query research in this industry.
Then, do a Google search for an immigration attorney in your area. Take note of the search results that appear on page one. Note down the keywords that appear in their meta tags, heading tags and body text (if any). Use these same local keywords when building a strategy of ranking your own business.
Next use Google's Keyword Planner tool which allows users to set up lists based on specific locations or countries as well as demographic criteria like age range etc… so they can see what kind of searches are popular and worth trying to rank. These filters are especially important for law firms and their SEO strategy.
Build high quality & authoritative backlinks
Link building is a critical component in a successful SEO campaign. However, these elements can also help in ranking websites and web site pages based on specific keywords, or anchor text.
A link is a vote of confidence for another website. The more "popular" it gets, the more credible and authoritative the site seems to visitors and Google. Achieving and earning backlinks for legal professionals can be a significant advantage, especially from big websites in your immigration and/or law niche.
Immigration law firms can scale lead generation with search engine optimization
Once you have an SEO strategy that works, it's easy to scale that process up. Increase the budget, and since your ROI is positive, you'll be increasing your overall profitability. This can be tricky to do in-house unless you want to hire a team of immigration law SEO experts, but an agency like Noved Solutions can always help you scale as far as you want!
But remember, the SEO rules change constantly. Google is always tweaking their algorithms, but experienced digital marketing experts will be able to guide you through any changes.

SEO Strategy, Check. Digital Marketing Efforts…
While we are a law firm SEO agency, we also offer many other services to aid in the growth of our clients' law firms. An immigration attorney can often use all the help they can get. A local SEO strategy is fantastic, but that alone sometimes isn't enough! Here are some other ways to boost your online presence.
Content Marketing Efforts Combined with Automation
Law firm content marketing is a great way to build trust and authority in your field, obviously. When you create content that's helpful, it can help you get in front of the right audience, which in turn creates more leads for your business.
Marketing automation is a great way to get more out of each piece of content you publish by automatically reaching out to prospects who have engaged with it. Designing email drip campaigns that keep your leads engaged with your law firm can help you stay "top of mind" to them right up until they need your services. Then who do they call for help? YOU!
PPC for Immigration Attorneys to Boost Your Lead Flow
Paid advertising and search engine marketing are two of the best ways to reach a specific and engaged audience. When your ads show up on Facebook, Twitter, and search engines, your firm skips all that hassle of search engine optimization strategy and jumps right in front of that organic traffic.
Remember those SEO keywords from earlier? Well for the right price, you can literally buy your way to the top of the search results for whatever search terms you want.
When you conduct keyword research on your target audience, you're benefiting both SEO and PPC. Sure there might be some differences, but the idea is the same.
Your investigation into immigration lawyer local SEO keywords will really pay off if you do decide to run paid ads in the future!
Why should you consider content marketing for your immigration practice?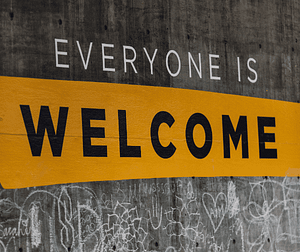 You should consider content marketing because it can help you build trust with your new clients. You need to show that you're an expert in your field, and the best way to do this is through content.
Inbound leads are more qualified than outbound leads because they've already demonstrated interest in their products or services by visiting their website or reading their blog posts and whitepapers.
Content marketing also provides another benefit: authority—or at least the appearance of authority—in your field. The more authoritative articles or blogs that you write on immigration law topics (and publish them online), the higher search engines will rank them and thus increase your credibility with new, potential immigration clients.
Don't forget to apply the keyword research your performed when creating this content!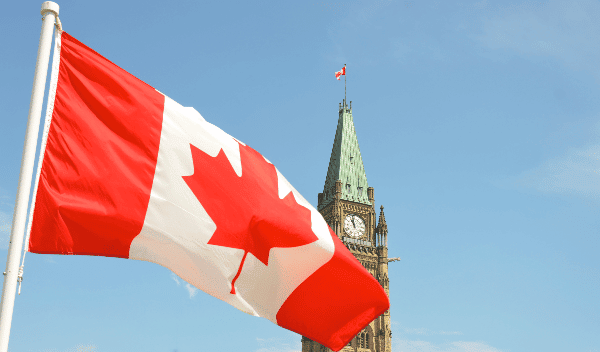 How to create a content strategy for your immigration law firm's website.
Once you've done research on keywords, it's time to create a content calendar. This will help you plan what types of content you'll be creating, when each piece should be written, and who is responsible for writing it.
It's important that the person in charge of creating your content calendar has an understanding of the best SEO for lawyers guidelines, so they can ensure that your website is set up to attract visitors who are interested in immigration law firms based on their location or industry.
Creating an editorial team will allow everyone involved with the website (including lawyers) to feel ownership over its success. Having multiple people write posts also reduces the chance that any one person will run out of keywords or topics—and it also means there are more opportunities for sharing fresh insights on the industry!
Once all these pieces are in place, all that's left is measuring success throughout the year by using analytics tools like Google Analytics (GA). GA allows us insight into where our traffic comes from—what keywords people searched before finding us; which channels bring us leads; etc.—so we can pinpoint areas where we need improvement before deciding how much money we want invested into future efforts moving forward.
If content isn't performing like it should, it might be time to look at that on page SEO like the title, keyword density, and headings. Something could be preventing you from getting the traffic that your content deserves.
What kind of content should you create for your immigration law firm web pages?
It is important to ensure that the content you post on your immigration law firm website is original and relevant to your audience. If you are unable to create original content, hire a professional writer to do so for you.
Avoid writing in overly technical language, as this can make it difficult for readers to understand what they're reading. Try using simple words, such as "you" instead of "the user," or "his," instead of "the subject's."
It's also important for this type of material to be easy-to-read; avoid long sentences and paragraphs that are packed with information.
The best way for your site's content to become viral is if it answers common questions about immigration law (such as: What do I need if I'm applying for Canadian citizenship?).
Shared content provides links to your site, which is a huge boost for overall digital marketing and SEO strategies.
Organic web traffic will come pouring in after!
Immigration Attorneys vs. Search Engines
The best way to learn how to do SEO to rank your law firm is by doing it. Start with the tips in this article, and then move on to more advanced strategies as your skills improve, like backlink outreach, social media development, map marketing, and other digital marketing strategies.
If you are serious about law firm SEO, it's worth investing in a professional, or SEO company, who can help guide the process from start to finish.
You need someone who can stay focused on the big picture, and be an expert in all aspects of your immigration law firm marketing.
You need an agency that can handle your entire multi channel marketing strategy, from social media platforms, to creating your immigration lawyers FAQs, and whatever else will help your particular firm attract more potential clients.
Immigration Law Firm SEO Services We Offer
Our SEO team is here to provide immigration lawyers with services to improve the visibility and web traffic to their website. Whether your site needs an overhaul or you are just starting out, our internet marketing agency can assist with all phases of Immigration Law Firm SEO strategies. No matter your marketing budget!
Our SEO company has a proven track record of assisting Immigration Lawyers with many different types of projects, including:
Overall digital marketing strategy

General SEO strategy
Local SEO strategy – keywords discovery, business and local profiles, Google maps,
Optimizing the law firm's website
Social media marketing
On page SEO
Creation of important service pages
Legal directories and listings creation
So if you're ready to increase your web presence and have prospective clients to come to you, reach out and we'll help you get there! We offer the best affordable SEO for lawyers services immigration law firms!